Allegations of Drug-Trafficking and Far West, Ltd
Satya Center is proud to present the third and final installment of author Peter Dale Scott's ground-breaking article on The Global Drug Meta Group, a lengthy investigation of the role of international drug dealers, intelligence services from major powers, Russian bankers and powerful global businessmen in the perpetuation of the global trade in heroin and international terrorism.


Scott reveals that drug dealers enjoy close relations with influential international bankers, weapons merchants, intelligence agents and military officers whose web of interconnecting interests can only be described as a "cartel".

Scott reveals that these drug cartels play a pivotal role in international relations, shaping the geo-strategic landscape in their own best interests while attracting  political and military leaders of major countries around the world into partnerships of convenience designed to further the ideological, military and economic interests of the elites in those countries.

This series of articles focuses on the individuals connected to one global drug cartel, dubbed the Global Drug Meta Group by Scott, and describes a meeting at billionaire Saudi Arabian arms merchant Adnan Kashshoggi's villa in 1999 that arguably laid the groundwork for the terrorist bombings in Moscow called "The Russian 9/11", which triggered massive escalation of the war in Chechnya.

Read Part One and Part Two of this Series for essential background information!]

....................................

Far West, Ltd., Halliburton, Neil Bush and Afghani Narco-Traffickers
Yasenev links Saidov, Surikov, and others to their former service in a drug-interception group in Afghanistan, under a Leonid Kosyakov who now headed a company called Far West, Ltd.:
Leonid Leonidovich Kosyakov, b. 1955, Ukrainian citizen. Until 2005 resided in Arab Emirates and Switzerland. Citizen of Ukraine. Retired from the service in May 1993. Presently the president of Far West Ltd. In 1983-85 Kosyakov was in command of a special group in Shindand (Afghanistan), assigned to intercept caravans with drugs. In different times under his direct command served Filin, Lunev, Likhvintsev, Surikov, Petrov, as well as Saidov[76]
Yasenev also presents testimony that this group developed into what the Russians call an OPS (an Organized Criminal Society) responsible for massive drug-trafficking:
These accusations were made by the former officer of the Main Intelligence Directorate of Ukraine Sergei Petrov (alias Serge Rodin, French citizen).
According to his testimony:
"The OPS [organized criminal society] was involved in drug trafficking since the beginning of 1990s:
-from 1995 the OPS transports heroin (produced in Afghanistan) from Tajikistan to European countries via Russia with the assistance of the Russian Defense Ministry.
- from 2000 the OPS is involved in smuggling Colombian cocaine to Russia through the seaports of Novorossiysk and St. Petersburg under the disguise of import shipments from Latin America.
Among the OPS contacts in Novorossyisk is Saidov; in St. Petersburg it used to be Roman Tsepov.
- Received profits are used for personal enrichment of the OPS leaders, the officials at the Ministry of Defense who provide them with "the roof" [protection], and for financing extremist activities."
In November of 2003, Rodin contacted the law enforcement agencies of Germany and France. Their investigation did not result in any actions against Filin, Likhvintsev, and their partners.
In January 2004, Rodin was blown up in his car in South Africa.
Yasenev's charge of a military organized crime group under Filin had been reported a year earlier by Russian journalist Nikita Kaledin:
There is a powerful military organized crime community which from 1992 through to the present has controlled substantial drug flows from Afghanistan to Russia and Europe and is also involved in laundering "dirty" money and is actively involved in Russia's political life. The community is controlled by former intelligence officers, Afghan war veterans, and now drug barons Vova Filin and Lesha Pribalt. The former lives in Switzerland, the latter in London. Both make quite frequent trips to Moscow, Dushanbe, Nazran, and Khankala....
Filin and Pribalt literally flooded Russia with heroin. The Kremlin could not tolerate this abomination any longer and ordered a mighty "Chekist raid" [i.e., ordered the FSB to shut down the operation] against the narcobarons. However, it is rumored that the raid has ended up with the agreement that the latter would 1) share their profits; 2) help in the facilitating the peaceful referendum on the constitution in Chechnya; 3) bring some order to the drug market by liquidating the leaders of ethnic criminal groups."[77]
As if in fulfillment of the third point, Surikov in 2001 denounced the leaders of an influential Tajik heroin cartel, including the mayor of the Tajik capital, Dushanbe.[78] (Tajiks until then had been one of the ethnic mafias who most dominated the trafficking of Afghan heroin through Russia.)
Far West, Ltd, Halliburton, Diligence LLC, New Bridge, and Neil Bush
The connection to Far West, Ltd, of Filin, Likhvinsky, Surikov, and Saidov (along with Alfonso Davidovich) has since been stunningly corroborated by a news story on the Pravda-info website about Far West, Ltd, and Kosyakov's resignation from it.
At a meeting of its stockholders on 2 May in the Hotel Ritz Carlton in Dubai "Far West Ltd." accepted the retirement of the president of the Agency Leonid Kosiakov, who moved to government service in Ukraine. Vladimir Filin, member of the Editorial Board of "Pravda-info," was elected the new president, at the same time retaining his previous position as executive director. The meeting of stockholders, in accordance with its charter, selected new members of the board of directors of "Far West Ltd.," which will now contain 9 members. Besides Vladimir Filin, Anatolii Baranov and Anton Surikov, it will include four more members if the Editorial Board of "Pravda-info": Audrius Butkevicius, Aleksei Likhvintsev, Natal'ia Roeva, and Ruslan Saidov, and also Valerii Lunev,[79] a veteran of the Armed Forces, and Alfonso Davidovich, a political scientist from Venezuela.
Far West, the story said, specializes in consulting work on questions of security in conducting business in regions of the world with unstable environments and hiring personnel for foreign private military companies [last three words in English]. Its head office is located in Switzerland. In addition, the Agency has a network of representatives in OAE [United Arab Emirates], Afghanistan, Colombia, the autonomous region of Kosovo, the autonomous republic of Crimea, Georgia, and the Volga Federal District of the RF [Russian Federation].[80]
Recently Filin gave Pravda.info some details about Far West's work, and revealed that the firm had been co-founded by "a sub-division of a well-known American corporation." He said that the company's new contract is connected with the secured transport of commercial shipments from Afghanistan, where we have an office, to ports on the Black Sea. In Afghanistan there is a well-known U.S. air base in Bagram. It is connected by an aerial bridge with a number of other US air bases. For example, with the largest base in Frankfurt-on-Main, that's in Germany, with an intermediary landing in Chkalovsk, in the Moscow area. But the most commercially attractive route seems to be that from Bagram to the US air base in Magas, in Kyrgyzstan. By the way, it is quite near the Russian air base in Kant. A significant flow of shipments passes through Magas, there is a niche there for commercial shipments too. This is very profitable. It is much more profitable than routing commercial shipments from Afghanistan through Tajikistan. Therefore last year we completely withdrew from all shipping through Tajikistan and closed our office in that country."
Who are your partners?
"Who our partners are is a commercial secret. I can say that they are four private firms from three countries, Turkey, Russia, and the USA,which engage among other things in shipping. One of these firms is a sub-division of a well-known American corporation. This firm is a co-founder of our agency."[81]
We can assume that Pravda.info is an inside source for information about Far West, for the two organizations seem in fact to be two different manifestations of the same group. Among the directors of Far West on the masthead of Pravda.info we find first of all Anton Surikov, followed by Anatolii Baranov, Aleksei Likhvintsev, Ruslan Saidov, Vladimir Filin, Natal'ia Roeva, and Audrius Butkevicius.[82]
Also on the Pravda.info masthead is Boris Kagarlitskii, who as we saw at the outset is a main source for the Western accounts of the meeting in southern France, by Patrick Cockburn, Nafeez Ahmed, and John Dunlop.[83] Many of the Far West directors, notably Anton Surikov, are or have been also associated with Kagarlitskii at the Russian Institute for Globalization Studies (IPROG).[84]
Although Filin and Pravda.info did not identify the foreign private military companies with which it worked, another source did:
Filin and Likhvintsev do business with foreign private military companies (PMCs):
- «Meteoric Tactical Solutions» (South Africa) – in Angola;
- «Kellogg, Brown &Root» (KBR Halliburton) – in Colombia, Afghanistan, Kosovo, Georgia, and Iraq.
- «Diligence Iraq LLC» (controlled by the Kuwaiti Mohammed as-Sagar) – in Iraq."
Their cooperation with these companies began in the end of 1994 in Angola on the initiative of Victor Bout, who was involved in the shipments of Soviet-made arms to the antigovernment group UNITA in exchange to raw diamonds.[85] Apparently, Bout became interested in Likhvintsev's contacts (L. worked in Angola in 1986-87).

Later, in October of 1998, Filin, Likhvintsev's wife Liudmila Rozkina (b. 1966) and Anton Surikov (at that time he worked in the Russian government) established the company Far West Ltd., with the office in Lausanne, which officially does security consulting for business ventures in countries with unstable regimes. De facto, this is a legalized form of recruiting mercenaries for PMCs.[86]
Furthermore Yasenev claims that some of Far West's work with Halliburton is apparently approved by the CIA for geopolitical purposes:
In 2003-2004, Filin and Likhvintsev worked on the Georgian project, financed by KBR Halliburton, apparently, with the approval of the CIA. The project had the goal of weakening the competitors of Halliburton in the oil business and, in a broader context, of facilitating the geopolitical objectives of the United States in the Caucasus. The OPS man in Georgia is Audrius Butkevicius, former Lithuanian minister of defense, presently advisor to Badri Patarkatsishvili.[87]
Some of Yasenev's information about Diligence Iraq is corroborated by a Press Release from Diligence itself.[88]
Diligence LLC, a private military company (PMC), could be described as a CIA spin-off:
Diligence was founded by William Webster, the only man to head both the Central Intelligence Agency (CIA) and the Federal Bureau of Investigation. Mike Baker, its chief executive officer, spent 14 years at the CIA as a covert field operations officer specializing in counter-terrorism and counter-insurgency operations. Whitley Bruner, its chief operating officer in Baghdad, was once the CIA station chief in Iraq.[89]
Its partner in Diligence Middle East (DME) is New Bridge Strategies, whose political clout was described by the Financial Times:
New Bridge was established in May [2003] and came to public attention because of the Republican heavyweights on its board – most linked to one or other Bush administration [officials] or to the family itself. Those include Joe Allbaugh, George W. Bush's presidential campaign manager, and Ed Rogers and Lanny Griffith, former George H.W. Bush aids.[90]
Joe Allbaugh, the co-chairman of the company, was also head of the Federal Emergency Management Agency (FEMA), on the day of the 9/11 attacks, and indeed until March 2003, the month that the U.S. invaded Iraq.
The Financial Times wrote that the success of New Bridge in securing contracts had to do with their relationship to Neil Bush, the President's brother:
Two businessmen instrumental in setting up New Bridge Strategies, a well-connected Washington firm designed to help clients win contracts in Iraq, have previously used an association with the younger brother of President George W. Bush to seek business in the Middle East, an FT investigation has found.
John Howland, the company president, and Jamal Daniel, a principal, have maintained an important business relationship with Neil Bush stretching back several years. In Mr Daniel's case, the relationship spans more than a decade, with his French office arranging a trip for Mr Bush's family to Disneyland Paris in 1992, while his father, George H.W.Bush, was president.
On several occasions, the two have attempted to exploit their association with the president's brother to help win business and investors.
Three people contacted by the FT have seen letters written by Neil Bush recommending business ventures promoted by Mr Howland, Mr Daniel and his family in the Middle East. Mr Daniel has also had his photograph taken with the elder Mr Bush. Such letters and photographs can be valuable props when doing business in the Middle East.
Mr Daniel's Houston investment fund, Crest Investment Corporation, employs Neil Bush as co-chairman. Crest Investment also helped fund Neil Bush's Ignite!, an educational software company. Mr Daniel sometimes introduces himself as a founding backer of Mr Bush's company, a Middle-Eastern businessman who has met him said, and has persuaded the families of prominent leaders in the region to invest.[91]
Until recently, news stories about the international backers for Neil Bush's firm Ignite! have focused on Taiwanese businessmen, and Middle East billionaires, such as Defense Minister and Crown Prince of Dubai Sheikh Mohammed bin Rashid al Maktoum.[92] But it was a surprise to learn in September 2005 that "Exiled Russian tycoon Boris Berezovsky was in Riga along with Neil Bush, the brother of the U.S. president, to discuss an educational project with Latvian businessmen."[93] In an interview with Interfax, "Berezovsky pointed out that he is one of the shareholders of Ignite! Inc., an educational software company. U.S. President George W. Bush's brother Neil Bush is the company's chairman and chief executive."[94]
The U.S. Contribution to the Afghan-Kosovo Drug Traffic
Much remains to be learned about Far West, Ltd., its personnel, and the American firm which co-founded it. Reportedly it was founded in 1998; and already had Surikov and Saidov as directors when they attended the meeting in Khashoggi's villa in July 1999.
I suspect myself that the meeting did indeed have to do with destabilizing Russia, as Dunlop claimed. But I believe also that the group at the meeting was more concerned with facilitating drug-trafficking than with strengthening the Kremlin. I believe further that they also discussed the Russian presence in Kosovo, and the imminent increase in the flow of Afghan drugs through Kosovo.
That this flow is huge has been attested to by many observers. Russian sources estimate that from 1991 to 2003 the same group shipped to Western Europe up to 300 tons of heroin and sold it to wholesale buyers of Kosovo Albanian nationality.  In the same period they sold up to 60 tons of heroin to Azeri and Roma (gypsy) wholesalers in the Volga and the Urals Federal Districts of Russia. The group's total receipts for heroin in 1991-2003 are estimated to be $5 billion.[95]

The chief narco-baron of the group is said to be Vladimir Filin, who is also the head of Far West. Here is a relevant interview Filin afforded to his colleague Alexander Nagorny at Filin's own alternate organization, Pravda.info:
There have been reports in mass media about the involvement of the U.S. military in Afghanistan in drug trafficking. I asked the well-known political scientist and specialist on organized crime Vladimir Filin to comment on this.
-Vladimir Ilyich, is it true that Americans are involved in drug business?
-Yes, they are in ideal situation for this. They control the Bagram airfield from where the Air Force transport planes fly to a U.S. military base in Germany. In the last two years this base became the largest transit hub for moving Afghan heroin to other US bases and installations in Europe. Much of it goes to Kosovo in the former Yugoslavia. From there the Kosovo Albanian mafia moves heroin back to Germany and other EU countries.
-Why such a complex arrangement?
Drug traffickers enjoy relative safety in military bases. There is no serious control there. German police cannot work there. However, outside of military bases German law-enforcement is in effect. True, any police can be bought. But the level of corruption in Germany is not as high as, say, in Russia. This is why it is more convenient for Americans to establish distribution centers in other places. I believe that, in time, such centers will move to their military installations in Poznan, Poland, and also in Romania and Bulgaria. Poland is already a EU member. Romania and Bulgaria are expected to be in 2007. Corruption in these countries is almost as high as in Russia.
-How big is American drug traffic to Europe and who is behind it?
-About 15-20 tons of heroin a year. When Poznan become open, I think it could rise to 50, even 70 tons. Behind this business are the CIA and the DIA (Defense Intelligence Agency). Actually, this is what they did already in Indochina in the 1960s-70s and in Central America in the 1980s.[96]
Under the circumstances I consider Filin to be no more reliable than his opposite number, Joseph D. Douglass, the author of Red Cocaine: The Drugging of America and the West. But legitimate questions abound as to why the USA empowered the KLA to take over Kosovo.
I will close with a question I have raised before. One has to ask why in 2004 some U.S. bureaucratic sectors in the Bush Administration were still using the KLA's very special background to deal with the difficult situation in Haiti:
In 2004 a USAID Report confirmed that "Training and management specialists of the Kosovo Protection Corps, a civilian response unit consisting primarily of former Kosovo Liberation Army members, have been brought to Haiti"[97]
Why would AID bring veterans of the Kosovo Liberation Army, "a major force in international organized crime, moving staggering amounts of narcotics."[98] to train and manage the Haitian Army, an organization traditionally "corrupted by Colombian cocaine kingpins"?[99]
Whatever the answer, it is hard to imagine that AID in 2004 did not have drugs somehow in mind.

......................


[76] Yuri Yasenev, "Rossiyu zhdet oranzhevaya revolytsiya" ("An Orange Revolution is in Store for Russia"), ru.compromat.
[77] "Geroinovyi tur." By Nikita Kaledin. Stringer-news, November 4, 2003; partially translated in "Afghan Drug Scene: The Poppy Power," News Central Asia.
[78] Pravda.ru, 7/30/01. Surikov's accusation was noted by Maureen Orth in the March 2002 issue of Vanity Fair: "To find out, I track down in Moscow the only Russian official who has spoken on the record about this issue. Dr. Anton V. Surikov is chief staff of the Committee of Industry, Construction, and High Technology in the Russian parliament. Last spring he told the Moscow News that the mayor of Dushanbe was a major drug dealer. That interview precipitated not only a denial from the mayor but also, according to Surikov, a demand that the Tajik journalist the mayor erroneously believed was Surikov's source be arrested." In the same interview, Surikov also noted that, "as early as the mid-90s, the Russians were`buying heroin and transporting it from the northern part of Afghanistan to Russian military bases in Tajikistan by truck and helicopter.'"
[79] According to Yasenev, "Lunev is responsible for security and `strong arm operations'. For his operations he hires the former and active duty officers of Russian secret services, including spetsnaz. In 1990-91 Lunev took part in overthrowing the regime of Zviad Gamsahurdia in Georgia." Lunev thus helped install Shevardnadze, who in 1991 supported Yeltsin against Gorbachev.
[80] http://www.pravda.info/news/2695.html,
Анатолий Баранов и Антон Суриков вошли в состав руководства агентства «FarWestLtd» - 2005.05.03.
[81]http://www.pravda.info/region/3601.html.
[82] http://pravda.info/aboutus/.
[83] Kagarlitskii, Director of IPROG, has also published many books in English, as well as in The Nation, Zmag, Counterpunch, and other journals.
[84] Those in both organizations are Anton Surikov, Vladimir Filin, Ruslan Saidov, Anatolii Baranov, Audrius Butkevicius, and Natalia Roeva. This list differs from the paravda.info list only in the omission of Likhvintsev.
[85]For Bout's involvement with blood diamonds, and the US failure to deal with this problem, see Douglas Farah, Blood from Stones: The Secret Financial Network of Terror (New York: Broadway Books, 2004), especially 44: "Intelligence officials say Bout [following 9/11] flew U.S. clandestine operatives into Afghanistan and badly needed ammunition and other supplies to the Northern Alliance. In exchange, they said, his past activities would be ignored." For more on Bout see Nick Kochan, The Washing Machine: How Money Laundering and Terrorist Financing Soils Us (Mason, OH: Thomson, 2005), 36-61.
Cf. Robert Baer, Sleeping with the Devil (New York: Crown, 2003), 15: "In the early 1990s, Osama bin Laden's main supply sergeant was Victor Bout, a former Russian military officer who had served in Angola, where he got involved in arms trafficking and oil. ...Bout had a reputation for delivering anything, anywhere, including the nasty stuff."
[86] Yasenev, "Rossiyu zhdet oranzhevaya revolytsiya."
[87] Georgian tycoon, close associate of Boris Berezovskii. Cf. Klebnikov, Godfather of the Kremlin, 262: "Often Berezovskii acted in Chechnya through Badri Patarkatsishvili, the Logovaz partner who, according to the Russian security services, had long served as the company's primary intermediary with organized crime groups." Klebnikov reports (161, cf. 331) that Moscow police heard in early 1995 from a gangster that "he had been approached by Berezovsky's aide, Badri, with a contract for Listyev's assassination." (In February 1995 Listyev, the director of Russia's most important TV network ORT, was shot dead in his apartment building.)
[88] Diligence, LLC Press Release 12/8/03, http://www.diligencellc.com/DME_announce.html.
[89] David Isenberg, "Myths and mystery," Asia Times, 5/20/04.
[90]Financial Times, 12/11/03. Cf. Asia Times, 5/20/04.
http://www.corpwatch.org/article.php?id=9375. "Mr Daniel's Houston investment fund, Crest Investment Corporation, employs Neil Bush as co-chairman." Ed Rogers, Diligence's vice chairman, was one of George H.W. Bush's top assistants when he was US president. On resigning from the White House, he negotiated a lucrative contract to act as lobbyist for the former Saudi intelligence chief and BCCI front man Kamal Adham, at a time when American and British prosecutors were preparing criminal cases against him. Rogers used Khashoggi as a go-between to secure the contract, which was canceled after White House criticism of it (Truell and Gurwin, False Profits, 362-64).
[93] The Baltic Times, 9/23/05.
[94] Interfax, 9/21/05. Cf. http://www.mosnews.com/news/2005/09/22/berezovskyriga.shtml: "Berezovsky is meeting Neil Bush on business, as the U.S. president's brother is a stockholder of Berezovsky's educational company Ignite, the spokesperson [for Belokon Holding] said."
[95] www.compromat.ru/main/zuganov/surikov2.htm.
[96] Alexander Nagorny "Narcobarons from the CIA and MI-6" Pravda-info 2004.09.13 http://www.pravda.info/kompromat/1203.html.
59 Anthony Fenton, "Kosovo Liberation Army helps establish `Protectorate' in Haiti," citing Flashpoints interview, 11/19/04, www.flashpoints.net). Cf. Anthony Fenton, "Canada in Haiti: Humanitarian Extermination," CMAQ.net, 12/8/04; http://www.cmaq.net/fr/node.php?id=19240.
[98] San Francisco Chronicle, 5/5/99.
US Government, Meta Group, and Global Terror




How the U.S. Restored Narco-Barons to Power in Afghanistan, 2001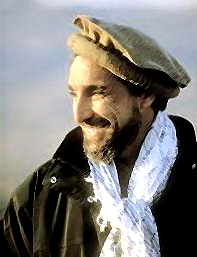 It is clear that the Blair and Bush Administrations did have drugs in mind when in 2001 they developed a strategy for ousting the Taliban in Afghanistan. Their plans focused chiefly on Ahmad Shah Massoud, overcoming the long-time resistance in Washington to supporting this known drug trafficker.[100]
Massoud of course was also the most successful guerrilla opponent of the Taliban. A more naked example of a U.S. drug ally was Haji Zaman in Jalalabad.
When the Taliban claimed Jalalabad...Zaman had fled Afghanistan for a leisurely life in Dijon, France. Just a few years at the top of the heroin trade in Jalalabad had given "Mr. Ten Percent" a ticket to just about any destination he could have chosen. In late September 2001, British and American officials, keen to build up an opposition core to take back the country from the Taliban, met with and persuaded Zaman to return to Afghanistan.[101]
According to Asian sources, Zaman's long-time Pakistani drug-trafficking partner, Haji Ayub Afridi, was also released from a Pakistani jail at this time, "reportedly at the request of the CIA."[102]
The informed Indian observer B. Raman was outspoken about the U.S. use of narcobarons to oust the Taliban. Citing the subsequent failure to curb opium production, he wrote:
There are disturbing reports from reliable sources in Afghanistan that this marked lack of success in the heroin front is due to the fact that the Central Intelligence Agency (CIA) of the USA, which encouraged these heroin barons during the Afghan war of the 1980s in order to spread heroin-addiction amongst the Soviet troops, is now using them in its search for bin Laden and other surviving leaders of the Al Qaeda, by taking advantage of their local knowledge and contacts. These Pakistani heroin barons and their Afghan lieutenants are reported to have played an important role in facilitating the induction of Hamid Karzai into the Pashtun areas to counter the Taliban in November, 2001. It is alleged that in return for the services rendered by them, the USA has turned a blind eye to their heroin refineries and reserves.[103]
A third major narcobaron selected by the CIA, according to Raman, was Haji Abdul Qadeer.
Haji Abdul Qadeer was the CIA's choice [in 2001] as the Governor of the Nangarhar province in which Jalalabad is located. .... During the first Afghan war against the Soviet troops in the 1980s, he played an active role under the control of the CIA and the Directorate-General For External Security (DGES), the French external intelligence agency, in organizing the heroin trail to the Soviet troops from the heroin refineries of Pakistan owned by Haji Ayub Afridi, the Pakistani narcotics baron, who was a prized operative of the CIA in the 1980s. Abdul Qadeer and Afridi became very close associates in running this drug trade with the blessings of the CIA. Amongst others who were associated with this trade were Haji Mohammed Zaman and Hazrat Ali.[104]
If Raman is correct, therefore, the CIA not only blessed but controlled the flow of drugs from Afridi, Zaman, and Abdul Qadeer into the hands of Soviet troops like Vladimir Filin and Aleksei Likhvintsev.[105]
IV. The Meta-Group, the War on Terror, and 9/11