Summer Fancy Easy Relish
Ingredients
Cooked Corn on the Cob
Peaches with or without skins
Tomatoes fresh from the garden or farmer's market
Cilantro or other leafy herbs of your choice
Toasted Cumin Seed or other toasted spices of your choice
Sea Salt & Pepper
Olive Oil
Lemon or Lime
I recently discovered this recipe in my own recipe book that I've kept ever since I moved to Houston with Curtis in 1984. I used to get lots of local peaches in Texas, one of the fruits that state in known for & make peach salsa, peach chutney & apparently this peach relish. The acidity of the tomatoes & the peaches seems to complement one another. If you're a corn, tomato or peach lover like we are, their abundance now in the late summer makes this a fast & easy relish to add the sun's energy to any meal! Enjoy!
Directions
Slice the corn off the cob including the germ.* Set aside. Then chop your tomatoes & peaches & set aside.
You may want to remove the peach skin first by dropping your peaches carefully into a large pot of boiling water for a minute. Take them out of the water with a slotted spoon after a minute or two, let rest until cool enough to handle, then remove the peach skin. Take out the peach pits (also called stones) & chop into large bite size pieces.
Clean & chop your leafy herb, in this case cilantro. Grind up some toasted spices such as cumin. Mix everything together in a large bowl, very gently so you don't break up the fruits. Season with a dash of sea salt or a squeeze of fresh lemon or lime and a splash of good quality cold pressed olive oil. Mix all together & serve as a garnish or eat just as is. This relish works on pastas, grain dishes, as a side dish to fish or chicken or burgers if you are not a vegetarian and quite well as a relish for a veggie burger.
Serve this relish with my recipe for Quinoa Salad or replace Quinoa with Cooked Brown Rice along with tofu, as seen in the picture below.
*  *  *  *  *  *  *  *  *  *  *  *  *  *  *  *  *  *  *  *  *  *  *  *  *  *  *  *  *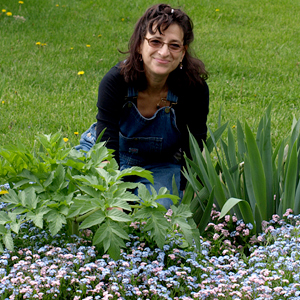 Jane Sherry, one of the Founders of Satya Center is a Reiki practitioner/teacher, spiritual counselor, creator of healing art talismans, healing gardens & loves to cook! She has a background in the visual arts before moving into the healing arts and has been a longtime lover of herbs & spices & cooking. She newly resides in Boca Raton, Florida, about one hour north of Miami. She works the Satya Center healing practice with co-founder and husband, Curtis Lang and co-operates the Satya Center Crystal Gallery and web portal. Plans for new gardens are germinating fast here in the Florida sunshine, well watered by lots of tropical rains. You will always find crystals in among the herbs, flowers & vegetable gardens!