Description
This gorgeous, energetically powerful 1.25 diameter Tibetan Green Obsidian Sphere is a gorgeous vibrant green color and is perfect size to fit in your palm. Tibetan Green Obsidian comes from the banks of the Yarlung Zangbo River. The Zangbo is the highest altitude major river in the world, originating in the Tamlung Tso Lake in Western Tibet, southeast of Mount Kailash, one of the most sacred sites on Planet Earth.
This beautiful, extremely rare Tibetan Green Obsidian gemstone imparts the unique energy signature of the High Himalayas. Jane and I feel a taste of that "peace that passeth understanding" when meditating with this Green Obsidian, and we feel that there is a reason this particular stone has recently come onto the world markets -- because Lightworkers, meditators and healers definitely need the specific vibrations imparted by this remarkable stone.
Mineralogical and Metaphysical Properties of Tibetan Green Obsidian
Obsidian is a silicon-rich glassy, vitreous mineral formed by the rapid cooling of volcanic material. Often quite dark and opaque, most often black, green, brown or white, obsidian also occurs, much less frequently, as the beautiful translucent or transparent gemstone quality material that is highly prized by jewelers, toolmakers and Lightworkers alike.
Because of its lack of a highly defined inner crystalline structure, obsidian can be fashioned into extremely thin and durable, super-sharp blades, and was used in prehistorical times for fashioning tools and weapons, while modern toolmakers create surgical scalpel blades with almost molecular thinness from this unique substance.

Green Obsidian energizes and activates the heart chakra, which is associated with the color green in the Western chakra system.
Green Obsidian helps us to see with the heart, to combine a masculine strength with compassionate creativity, and to facilitate the study and practice of agriculture and herbalism for nurturing and healing.
Wear this color to help when communicating with devas and nature spirits. In addition, green obsidian is said to help connect the heart with the third eye, facilitating clairvoyance and fostering a deep experience of Unity with Universal Creation.
Green Obsidian is a stone of joy and freedom, imparting a feeling of springtime exuberance and optimism that opens the heart and the mind to the very best life has to offer on Planet Earth!
Obsidian is considered by crystal healers and shamanic practitioners to be an excellent grounding stone which provides a shield of energetic protection around the bearer.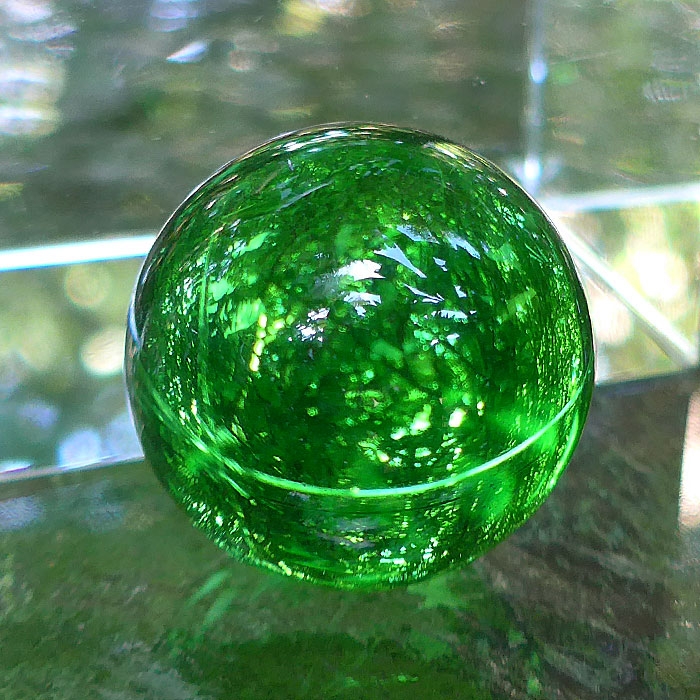 In fact crystal healers recommend Green Obsidian to all those who seek to remove unwanted energetic attachments from their auric fields. We all have a myriad of energetic attachments to other people -- our families, friends, co-workers, loved ones, and even those with whom we interact casually in our world, including in cyberspace!
Sometimes those energetic attachments can act as conduits for negative emotions, unwanted energies, and unpleasant thought-forms that are truly alien to our own being.
This is why all spiritual practices teach ways to disconnect from the energy fields of the mass of humanity. Lightworkers, shamanic healers, crystal healers, meditators, and energy workers all have developed a myriad of practices, rituals and exercises designed to detach these energetic "hooks and cords" from our auras and our chakra system.
Green Obsidian provides a potent protection from the flow of undesirable thoughts, emotions and energies in our environment which have their origins in the negativity of other people with whom we come in contact day and night.
Tibetan Green Obsidian is a stone of personal protection and physical relaxation, a heart-opening stone of truth-telling, a stone of deep meditation, and above all a stone that connects the bearer to the elementals, devas and nature-spirits who inhabit the elevated regions of the Himalayan Mountains. This is the place where Earth's mightiest rivers are born -- where snow melt powers the world's cleanest alpine water, fresh from its vortexial flow down steep mountainous streams, to merge into powerful flows that reach down into China and India and Southeast Asia, providing for the needs of billions of people.
Himalayan Rivers include the Indus, Ganges, Yangtze, Brahmaputra, Salween, Mekong, Xunjiang Red River (Asia), Irrawaddy River, Chao Phraya, Syr Darya, Amu Darya, Tarim River and Yellow River.

"The collective catchment area of the Himalayan Rivers houses around 3 billion people (nearly 50% of the population of the world) in Bangladesh, Afghanistan, People's Republic of China, Bhutan, Nepal, India, Cambodia, Burma, Uzbekistan, Tajikistan, Kazakhstan, Turkmenistan, Thailand, Kyrgyzstan, Vietnam, Laos, Pakistan, and Malaysia," according to mapsofindia.com.
Crystal Balls
Crystal balls conjure images of witches, warlocks and spells. But modern day spiritual seekers understand that the crystal ball is a microcosm, a doorway, a transmitter and receiver of energies and a very valuable ally for those involved in divination or meditation, and for all those who want to strengthen their intuitive powers.
Natural quartz crystal balls are cut from veins of quartz.
In traditional crystal ball divination, the holder of the ball has cleared the stone of all outside energies and hands it to the questioner. The querent passes energy into the ball and returns it to the holder.
The holder then enters into the ball, metaphorically speaking, meditating upon the interior until inner spiritual guidance provides the appropriate information about the querent and the question.
Crystal balls usually have inclusions or veils. Rainbows, metallic flakes, and milky clouds are often found inside crystal balls.
The inclusions within the crystal often function to create an imaginative landscape and a backdrop for the emergence and retreat of meaningful, symbolic forms, such as are often found in clouds, bonfires or running water.
Crystal balls can be charged with Reiki energy, placed in sunlight -- and in moonlight -- for additional energizing, and then placed on an altar or elsewhere in any room to subtly alter the energy in the space.
Crystal balls radiate a vibration of unity, and can be used as excellent doorways to higher realms, and as communication devices to bridge the distance between the holder and loved ones in far flung areas of the Earth. Crystal balls traditionally have been used as a point of contact with spiritual guides and teachers, both those in physical bodies at this time and those whose energies are primarily elsewhere.
This crystal has been cleaned with Universal Life Force Energy, and given an energy attunement using Reiki, a Japanese technique of energy healing, so it will continue to receive and transmit Universal Life Force Energy direct from the Source of Creation. It has also cleaned and charged with the natural energy of sunlight. It is ready for you to program according to your own needs and desires.

We know you will use this powerful crystal with loving wisdom and respect its long journey in the Earth that has lasted for many long historical cycles. This crystal is a powerful tool, a love-gift from the Divine Mother.
Read more about quartz and other types of crystals at the SatyaCenter.com Crystalpedia. Check out our FREE e-book Spirits of Stone: A Lightworker's Guide to Crystals and Gemstones for Healing and Meditation for an overview of the metaphysical and mineralogical properties of quartz, and a step-by-step guide explaining how to cleanse, charge, and program quartz crystals for healing, meditation and other spiritual purposes.
Weight above is shipping weight. Average Net Weight of the spheres is 35 grams or 1.2 ounces.