Description
This lovely 1.75 inch long Golden Rutile & Black Tourmaline Freeform Pendant, weighing 19 grams or 3/4 ounce, was created by Lawrence Stoller, critically-acclaimed artist and crystal cutter who is known world-wide as a fabricator of magnificent works of art created in partnership with Nature & Light. Both sides of this unique pendant display a glittering pattern of golden rutile needles.
Lawrence's work is in worldwide museums & collections. He has created a magnificent centerpiece for American Express's Eleven Tears World Trade Center Memorial. He thinks of crystals as "frozen light" and indeed this Rutilated Quartz Pendant displays thick and thin bands of golden light & dark within the stone itself.
Lawrence fashioned this beautiful Golden Rutile & Black Tourmaline Freeform Pendant to showcase the fat zigzag bolts of golden rutile that criss-cross this crystal.
Lawrence purposely cut this beauty so that it would display some inclusions. "This way you know for sure it's not laboratory manufactured rutile," Lawrence jokingly remarked. Lawrence prefers to leave some inclusions in his crystal works to remind us of nature's role in the creative process. Hold this lovely pendant up to the light and see the rainbows these inclusions create.
To showcase the subtle beauty of this Platonic form of crystalline nature, Lawrence preferred to avoid any type of metal finding, bale or basket, simply drilling a small hole in the female end of the crystal for a chain or cord.
The pendant comes with a simple black cord and a beautiful golden clasp, created by Lawrence to complement the elegant design of this unique pendant, complete in a velvet jewelry box for safekeeping.
Mineralogical and Metaphysical Properties of Rutilated Quartz
This rutilated crystal contains needle-like inclusions of titanium inside it. Rutile is a titanium ore. Titanium is used in high tech and aerospace alloys because it's a lightweight super-conductor of electrical energy, exhibits great tensile strength and resists corrosion.
Rutilated quartz crystals have a high-energy charge, which is particularly effective in releasing energy blockages. For energy healing, rutillated quartz can be placed near the navel and around any area where the energy feels sluggish.
Compared to other forms of quartz, rutilated quartz has a greatly enhanced ability to help dissolve any energy congestion.
Rutilated quartz is said to be a regenerator of people, crystals and plants, and to help one to resist aging and the general cellular breakdown caused by time.
Rutilated quartz pendants, in my experience, when worn or carried on the person, act as a stimulant to the nervous system and the etheric body.
Rutile is good at repelling negative energy and ending unwanted interference. Rutile promotes and strengthens stability in relationships and marriage, and works to eliminate emotional and physical imbalances. Rutile is very "electrical" and affects physical, etheric and astral bodies.
In our experience, rutilated quartz has a VERY strong, very "electrical" and affects physical, etheric and astral bodies. By strengthening the mind and promoting active awareness this rutilated clear quartz crystal can help to enhance concentration and mental focus and help you to increase the depth and duration of your meditation sessions and the strength of your connection to inner spiritual guidance and spiritual teachers.
Rutilated Quartz is also ideal for sending light to the energy grids surrounding the earth, for sending energy to distant locations and for use to help harmonize the energy during group meditational practices.
Mineralogicaland Metaphysical Properties of Black Tourmaline
When I am feeling beset with too many influences or worries, if I feel I am 'picking up' on too many different energies, I sleep with a black tourmaline under my pillow, and always have a restful sleep, feeling protected from overextending my energies.
Tourmaline is the name given to a family of minerals forming hard, slender vertically striated prismatic crystals, often hexagonal or rhombohedral in shape, with a high specific gravity, classified as complex aluminum borosilicate.
Like quartz, tourmaline crystals will generate an electrical charge when pressure is applied in the direction of the vertical axis. This is called piezoelectricity. In addition, some tourmaline will generate an electrical charge when heated.
Common tourmaline is black, and the lighter colors, such as blue, are much more rare. The colors in the stones are created by the presence of various metallic ions such as iron, titanium, chromium, and others. The various colors of tourmaline are associated with the seven primary chakras within the human aura.
Black tourmaline is actually composed of extremely dark blue tourmaline.
Black Tourmaline has a strong affinity with the root chakra, and provides strong support for the physical body, strengthens the flow of Universal Life Force Energy in the root chakra region, and helps to ground and protect the individual from unwanted or detrimental ambient negative energies.
Tourmaline is the birthstone for the month of October and the Zodiacal sign of Libra. In ancient Hindu tradition, the tourmaline is a stone of motivation, which impels the wearer toward the good, and a "teller" stone that gives insight in times of duress and can identify sources of distress in the wearer's environment.
Shamanic practitioners in African, Native American and Aboriginal tribes used tourmaline to provide protection from physical danger and to amplify healing powers.
All forms of tourmaline are thought to balance the left and right hand sides of the brain, harmonizing rational thought with intuitive insights. Tourmaline helps release victim consciousness and maintain a sense of humor, faith and confidence in the reality of one's own inner vision.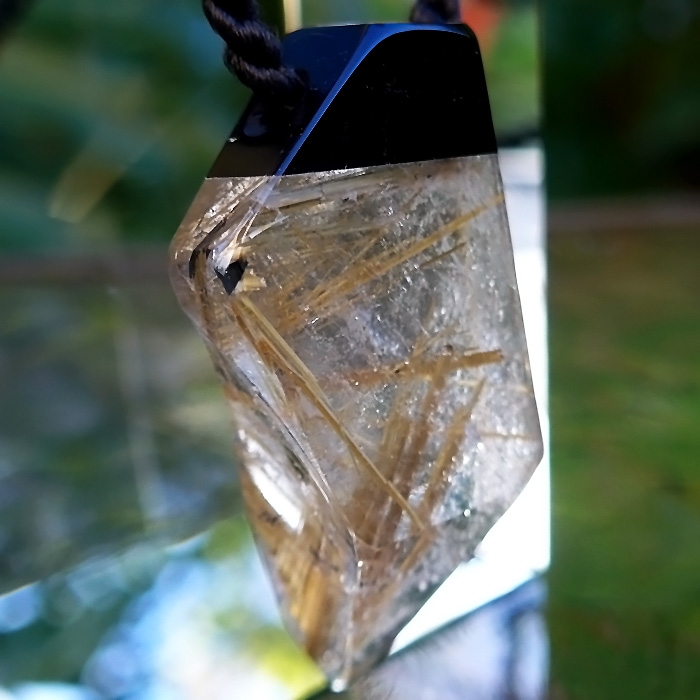 Crystal healers say that tourmaline can be useful in the treatment of ailments of the nervous system and to purify blood/lymph toxins. This gemstone is said to neutralize fears, resentment, neurosis, and obsessions. 
This crystal has been cleaned with Universal Life Force Energy, and given an energy attunement using Reiki, a Japanese technique of energy healing, so it will continue to receive and transmit Universal Life Force Energy direct from the Source of Creation. It has also been cleaned and charged with the natural energy of sunlight. It is ready for you to program according to your own needs and desires. 
Note: Weight above is shipping weight. Net weight is .67 oz.