Description
This Water Clear Vogel Healing Wand from our special collection is extraordinary in every way.
Master Crystal Cutter Ray Pinto, who has been cutting world-class healing wands based on the designs of IBM scientist and crystal healer Marcel Vogel for decades, has replicated the design of one of Marcel Vogel's favorite healing wands, available now to Satya Center exclusively.

This 5.75 inch long Marcel Vogel's Favorite Triangular Healing Wand, weighing 261 grams, 9.2 oz. or .575 pounds, is a Lightworker's power tool and a collector's item with a powerful personal connection to the famous American Master of Crystal Healing. 
Recently, Jane and I were privileged to receive some paintings and papers of Marcel's from his family, who wish to see his teachings and his work more widely distributed to the public.
We took pictures of a beautiful portrait of Marcel holding a crystal healing wand, and in one picture Jane is holding one of Marcel's favorite healing wands in her hand in front of the portrait. 
Jane and I were delighted to have the opportunity to hold this unique wand in our hands, and to experience the energy for ourselves. We were amazed by the heart-centered energy signature of this beautiful crystal wand, and we decided to have our favorite cutter of Vogel wands, Ray Pinto, replicate this design of Marcel's for distribution to Lightworkers worldwide.
Ray's work more than lived up to our expectations. This year, Ray has elongated the wand slightly, which makes it a better fit in the hand.
You'll notice a few hairline wheel markings on the female end of the wand, which in no way mars its beauty or energetic power. This is an artifact of the cutting and polishing process that sometimes occurs with these complex cuts.
We have been "test-driving" these beauties in Reiki sessions and in meditation, and we have found that this style of Vogel wand has an energy signature that resonates with the open heart chakra, making this an ideal crystal to use in healing treatments or in meditation practices of all kinds.
For healers working in the shamanic healing tradition of Alberto Villoldo, water clear Vogel wands are considered a requirement for extraction work, which removes negative energies and entities from individuals' auras and bodies. This Triangular Vogel Wand would be the ultimate shamanic tool for practitioners from such a school.
Design Properties of the Marcel Vogel Triangular Healing Wand
This precision light instrument, with a unique cut based upon the specifications of legendary scientist and crystal healer Marcel Vogel, is a powerful subtle energy tool, and can be used for many kinds of healing work as well as for meditation.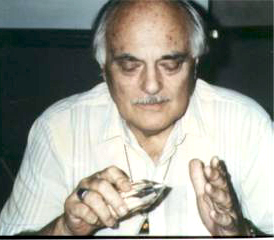 Marcel Vogel (1917-1991) was one of America's most prominent late Twentieth Century spiritual scientists, who helped stimulate great public interest in the use of highly faceted quartz crystals for meditation and therapeutic purposes.
To learn more about Marcel Vogel and his techniques for crystal healing, read the first several chapters of his never-before-published autobiography, edited by Curtis Lang, which is in our Vogel Archives. 
You'll find Marcel Vogel's instructions for using crystals for healing and meditation in the book along with a lot of other very important information for all metaphysical rockhounds.
Marcel Vogel worked for IBM for 27 years doing research and development. He developed the magnetic coating for IBM's disc drive, which acts as the storage unit for a computer's memory, he created the first liquid crystal displays, or LCDs. 

From his experimental work with crystals, Vogel learned that by pointing a crystal at another person, the crystal would amplify the person's thoughts and emotions. This often also led to putting the individual into an altered state of consciousness. The next step was for Vogel to utilize the quartz crystals for therapeutic purposes.
Marcel Vogel sought to use the power of science and of the lapidary arts to perfect crystalline forms of nature in order to maximize their potential for receiving, amplifying and transmitting Universal Life Force Energy charged with the intent to heal and with the force of love. Vogel cut his crystals to harmonize with the natural quartz structure to enhance the energetic properties of the wand for healing purposes, and the result is also aesthetically pleasing.
Universal Life Force Energy (also called prana or chi) enters the female end of the wand, which displays three pentagonal faces and three triangular faces. Crystals with one or more five-sided faces and opposed by triangular faces are known as Isis crystals. 
Isis crystals like this one can assist us in connecting with the Divine Mother. Isis was known as the Egyptian Queen of Magic and Giver of Life.  For both men & women, such a crystal can help to balance the male/female aspects of our beings or bring in the qualities of the Divine Mother: nurturing, strength, self love, Universal Love & compassion. Isis crystals can help to foster the native intelligence we all have, called Intuition. 
As the prana spirals down the shaft of the wand, the energy stream is amplifed every time it encounters a facet on the shaft. The Triangular Vogel Healing Wand has three large faces on the shaft, and three narrow faces, all of which narrow down as the shaft approaches the termination tip.
The super-charged energy stream coalesces at the male end of the wand, and is emitted as a highly coherent laser-like beam for use in meditation, vibrational healing and subtle communications.
Energy and crystal healers prize Vogel cut quartz crystals to this day. The art of cutting crystals for use in healing requires extensive knowledge of the high art of jewel-cutting, an intuitive feel for the subtle energies involved, and an awareness of the needs of the energy healer who will be using the wand.

Faceted crystal wands claiming to be Vogel type crystals vary widely in quality, craftsmanship, and price.

The most important thing to remember in working with faceted crystals for healing is that the purpose of the faceting should be to amplify and transmit an increasingly coherent stream of energy to a subject.

Some hexagonal quartz crystal wands occur naturally with six more or less equilateral sides and more or less equal triangular termination facets. Energy healers discovered that these six sided wands amplified the energy being transmitted by the wand when the termination facets on the female end created a more obtuse angle and when the termination facets on the male end created a more acute angle. 
In a naturally formed quartz crystal of somewhat irregular shape and symmetry, the energy within the crystal tends to move through the crystal in a less directed way than the Vogel style cuts.
But when a crystal had a very definite symmetry, especially the hexagonal symmetry, then the energy gathers in the larger, receptive end of the crystal, and if directed by a knowledgeable human hand, travels in a series of tighter and tighter concentric circles around the interior of the crystal, and down into the tip of the male end of the crystal, where it would be emitted as a much more coherent stream of energy. 
Energy healers also discovered that when the sharp male tip of the healing wand is congruent with the C-axis of the crystal, exactly centered within the circle formed when you look head-on at the male end of the crystal, this made the energetic flow stronger and more coherent.
When the sharp tip on the female end of the crystal, where the six termination facets meet, is congruent with the C-axis of the crystal, exactly centered within the circle formed when you look head-on at the female end of the crystal, this made the energetic flow stronger and more coherent.
The best six-sided natural healing wands exhibit well-centered male and female terminations.
Total symmetry created the crystal healer's version of the laser beam.
Marcel Vogel's healing wands are refined artistic versions of natural healing wands. Good Vogel wands should have precisely equal facets. The male and female terminations should be sharp, and the male should be more acute than the female. 
The male and female termination tips should be exactly centered in the circle you cee when you look head-on at the crystal from either end.

As you can see from this brief, simplified description of the intricacies of Marcel Vogel's designs, it is extremely difficult to create Vogel wands.

I have seen many "Vogel" wands that do not meet the minimum specifications for a Vogel wand as described above.
In addition, the number of facets, the intricacy of the design, the mastery of the wand-cutter, his credentials as an energy healer, the quality of the materials used, and other factors, all contribute to the difficulty of producing Vogel wands.
We are proud to offer our customers only those Vogel-cut wands that come from cutters whose work is personally known to us. We personally "test-drive" and examine them all energetically prior to accepting them for our inventory.

Ray Pinto's brother Walber Pinto studied directly with Marcel Vogel, who is now deceased, and Ray and Walber have practiced crystal healing and precision cutting of Vogel wands for decades. Their artisanship and dedication to energy healing is well known wherever Lightworkers gather throughout the world.
This wand comes with its own FREE handmade pouch constructed of 100% polyester fleece and micro bonded suede that has the look and feel of real sheepskin. They are designed for a snug fit and come with extra padding to protect delicate tips and points.
Read more about quartz and other types of crystals and gemstones at the SatyaCenter.com Crystalpedia. Check out our FREE e-book Spirits of Stone: A Lightworker's Guide to Crystals and Gemstones for Healing and Meditation for an overview of the metaphysical and mineralogical properties of quartz, and a step-by-step guide explaining how to cleanse, charge, and program quartz crystals for healing, meditation and other spiritual purposes.
This crystal has been cleaned with Universal Life Force Energy, and given an energy attunement using Reiki, a Japanese technique of energy healing, so it will continue to receive and transmit Universal Life Force Energy direct from the Source of Creation. It has also been cleaned and charged with the natural energy of sunlight. It is ready for you to program according to your own needs and desires. 

Weight above is shipping weight. Net weight of Vogel cut wand is 9.2 ounces or 261 grams.