Welcome to the October 2019 Cosmic Weather Forecast, celebrating this Sunday's Aries Full Moon and Libra Solar Festival. Warm greetings from your co-editors, Curtis Lang and Jane Sherry.
Johannes Hevelius's chart of Libra and surrounding constellations, from his Firmamentum Sobiescianum sive Uranographia.

The Aries-Libra axis highlights relationship issues, and dramatizes the tension between individual rights, drives and desires and the compromises and sacrifices required for healthy relationships and healthy integration into social structures we inhabit.

The tension between individual rights and social responsibilities underlies vast questions surrounding climate change, income inequality, global refugees and immigration, and the future of democracy itself. As we shall see in this newsletter, our social structures are challenged to maintain their integrity in the face of these tensions, and the Cosmic Weather patterns indicate stressors are likely to increase dramatically in the coming months.

This Full Moon week we see a Cardinal T-Square involving the Sun-Moon Libra-Aries axis and the Pluto-Saturn conjunction in Capricorn. That indicates existential crises demanding long-term planning and comprehensive changes to our social structures and individual lifestyles to prevent short to medium term catastrophes and insure long-term survival for our civilization and for ourselves.

A harmonious trine between Moon and Jupiter promises the energy and will forces necessary to channel T-Square stress into visions of practical solutions to intractable problems, and will allow us to face these issues with courage and proceed with some measure of ease and grace.
Full Moon Rises Over North Atlantic, View From International Space Station, 2016, NASA

Here in South Florida, we're still in the middle of a very active rainy season, temperatures have moderated a little, and now that Yom Kippur has come and gone, snowbirds are flocking to Boca Raton.
The Sun enters Scorpio on October 23, 2019. Soon it will be the season of Scorpionic holidays, celebrating the time of yearly transformation when the veil between the worlds thins and all things normally repressed or hidden from sight erupt into the everyday world.
Scorpio traditionally rules the process of alchemical transformation, and the evolutionary processes of death and rebirth. Be sure to read our article on Lactofermentation, Putrefaction and Scorpionic Transformation for a quick look at Scorpionic magic as it manifests in the spiritual and material worlds, including the home-brewing of seasonal sauerkraut, an autumn ritual in many areas of the Northern Hemisphere. Here's our good friend nutritionist Betsy Cashen's recipe for Sauerkraut and Fermented Vegetables. It's beyond yummy!
This is the time of the seasonal festival of Samhain, also known as Halloween in the West and of Diwali, the Hindu Festival of Lights, in the East.
Goddess of the Harvest, by Jane Sherry, Houston, Texas 1997

The pagan feast of Samhain begins at dusk on Thursday, October 31, 2019 and extends through the evening of Friday, November 1, 2019.
The feast of Diwali is celebrated by Hindus, Buddhists, Sikhs and Jains in India for five days at the time of this month's new moon, and occurs on October 27, 2019.

The name Diwali means Row of Lights. This festival celebrates the end of cropping season, and is dedicated to Laxmi, Hindu Goddess of Abundance. It is traditional to light ghee lamps and candles throughout one's house and outside as well.
May we all connect this season in the Twilight of the Year with our Divine Selves and with the Immortal energy stream of Divine Love.
For more on these Scorpionic holidays, see our article entitled Happy Halloween, Samhain and Diwali.


Cosmic Weather Forecast

There's some good outer planet news this Full Moon week. If you have felt blocked, stuck, oppressed or stymied the last few months, you should be feeling a change in the cosmic weather patterns. Saturn and Pluto have both been retrograde in Capricorn but since the beginning of October they've both gone direct, which should help us to move forward with our plans with less struggle and reduced levels of interference.
Johannes Hevelius's chart of Capricorn and surrounding constellations, from the
Firmamentum Sobiescianum sive Uranographia.

The Jupiter in Sagittarius square Neptune in Pisces mental fog machine that has been working overtime this year peaked September 21, and we should feel increasing clarity as this aspect is on the wane and should be much less significant during and after the third week of October, as the Sun enters Scorpio on October 23.

If you have been contemplating life-changing alterations in your career, home life or love relations, now is a good time to meditate upon various scenarios and achieve increased clarity about the viability of outcomes attached to various potentialities. Take this opportunity to connect with your inner daimon, and let Higher Mind guide you in creating a new template for life in harmony with Higher Purpose.
Le daimon de Socrate, artist unknown

Just remember that Mercury goes retrograde on Halloween, October 31st, at 27.5 degrees Scorpio and stays retro through November 20, well past the next Full Moon, so although you might take this present opportunity to evaluate potential future scenarios, you might want to postpone definitive action until after the Mercury retrograde period.

Also know that we can expect radical, unexpected events throughout November, some negative, some positive.

On November 5, Mars in Libra squares Pluto in Capricorn which could throw sand in the gears for all of us, making forward progress extremely problematic, and potentially triggering passive-aggressive tantrums or eruptions of repressed emotions.

On November 8, Sun in Scorpio trines Neptune in Pisces creating a feeling of flow, an emotional warm glow and a willingness to penetrate to the depths of consciousness and/or fly like an eagle, soaring into the causal realms of Cosmic mind, Divine Guidance, and Diamond Clarity. This could be a golden opportunity to release unwanted or stuck emotions, and to accelerate all spiritual practices designed to ascend into higher realms of being.

On November 9, Saturn in Capricorn sextiles Neptune in Pisces, and we may find that we are able to envision a realistic approach to manifesting the dreams we hold in our hearts and most deeply wish to come true.

In all, this period prior to the next Full Moon offers abundant opportunities for fruitful meditation, manifestation practices, and all therapies designed to free us of oppressive karmic conditions that constrict our ability to manifest a desired reality.


Evening Sky on Sunday October 13, 2019 with Mars and Sun in Libra,
Mercury and Venus in nearby Scorpio, SkyShot from Sky Guide App by Curtis Lang
The Full Moon occurs on Sunday, October 13, 2019 at 20° Aries, and we celebrate the Libra Solar Festival with Sun at 20° Libra that same day.

Moon in Aries is trine Jupiter the planet of expansive good fortune, in adventurous Sagittarius, providing tremendous energy for work in the material and spiritual worlds.

Venus in Scorpio opposite Uranus in Taurus challenges us to prepare for unexpected inspirational encounters and to be open to finding love in places we would never think to search for it. Expect change and excitement in your love life and know that such changes can have both positive and negative consequences.

The Sun-Moon axis in cardinal signs is impacted by Pluto and Saturn in cardinal sign Capricorn, forming a potent and potentially thorny cardinal T-square. This is the dominant astrological influence this Full Moon week.

Pluto and Saturn in Capricorn can be leaden, heavy influences, making us feel that even the simplest activities are akin to rolling boulders uphill. These two slow moving outer planets will reach a point of exact conjunction around January 12, 2020, so their influence will grow stronger during the upcoming months as they pass through a series of varied aspects to other, faster moving planets.

The January 2020 Stellium in Capricorn involves Sun, Mercury, Ceres, Jupiter, Saturn and Pluto, and astrologers expect this to be the onset of epochal global transformations.

Astrologer Richard Tarnas, the founding director of the graduate program in Philosophy, Cosmology, and Consciousness at the California Institute of Integral Studies in San Francisco, says the Pluto-Saturn conjunction requires us "to generate great courage in the face of darkness, danger, and death; sustained effort and determination, intense focus and discipline; moral discernment and wisdom born from experience and suffering."

Saturn creates limitations in our life to force us to make needed, but often painful, changes that will in the very long run be beneficial. Pluto rules the shadow side of our individual and collective consciousness, so we will be forced to confront the unintended consequences of our actions that will affect us far into the future and the repressed emotions we have ignored for too long in a vain attempt to continue our business as usual lives and lifestyles.

Saturn-Pluto conjunctions can create scary, threatening situations that will force us to accept limitations to our desires and our lifestyles we have not wanted to consider for a moment, and to act with determination, perseverance and discernment to transform our lives in ways we would never have considered remotely possible.

On the world stage, revolution will be in the air and plutocracy will enforce unheard of new authoritarian measures to extend the reign of status quo political and economic systems. Conflicts between nations, religions, races and ideologies will sharpen and reach a boiling point.

Social systems will break down in large scale unexpected ways.

The waning of the foggy Neptune-Jupiter square that dominated much of this year and the onset of the Saturn-Pluto conjunction this month and in months to come has already been felt on the world stage.

Political systems in America are in crisis now. Environmental conditions in California have created an energy crisis as PG&E cuts off power to millions for days at a time during fire season. The global financial system is in a slowdown, the Silicon Valley IPO machine has seized up and many Wall Street gurus are running scared, concerned about a potential global financial meltdown.

We have been in a time when truth seems nebulous and infinitely malleable, characteristic of the Neptune-Jupiter square, but we are entering a time when truth becomes all too present, when a hard-edged clarity will dispel illusions, mistaken maps of the world and propagandistic astral glamours, confronting us with unpleasant realities we have chosen to ignore.

Let's look first at the American political scene. Observing political machinations in Washington these days is like trying to watch a chess match conducted within a room containing a stadium concert size fog machine.

The ill-starred Mueller investigation of President Trump's alleged connections to Russian interference in America's 2016 Presidential elections this last spring is a good example of the energy signature of the Neptune-Jupiter square.

Truth became whatever was politically expedient for either Trump or his Democratic opponents. It is perhaps no coincidence that much of the Russiagate controversy was stoked by members of the American intelligence community, who, like Trump, are masters of mass manipulation, and have been prone to widespread use of Big Lie propaganda techniques around the world for a century or more.

The entire Russiagate narrative evaporated like a fog in early morning sunshine when a one page press release from the Attorney General dispelled the glamour of the conspiratorial narrative. Mueller testified, to no great effect, appearing old and feeble, and it became apparent that the spook had no clothes.
As the final Neptune-Jupiter square in this series perfected on September 21, a whistleblower appeared to accuse President Trump of improperly soliciting a political hit on his rivals in the Biden family from the Ukrainian government. Within a matter of days, 40 members of Congress demanded impeachment. Whether or not this new accusation has more substance than the vaporous Russiagate narrative, impeachment is now on the table. The stakes in this game of political chicken have been raised to a much higher level.

President Trump has "declared war" on the Congressional Democrats pushing for impeachment, and we are entering what will no doubt become a long and drawn out Constitutional Crisis, which will probably involve both Houses of Congress, the President and the Supreme Court, casting doubt on ability of the American political system to ascertain the truth of these charges and to act accordingly.

In the face of the Congressional impeachment inquiries the president announced a policy of total non-cooperation with all subpoenas and threatened civil war .

As the 2020 election approaches, it is increasingly likely that Republicans will accuse Democrats of unpatriotic, illegal, and even treasonous behavior, while Democrats will accuse Republicans of undermining the rule of law and the Constitution itself.
Battle of Antietam, Unknown author; Kurz & Allison, Art Publishers, Chicago, U.S.A.
Restored by Michel Vuijlsteke [Public domain]

We have entered into a cold civil war, and it is quite possible that the 2020 election results will be completely unacceptable to the losers, no matter which side they are on. This could then trigger unprecedented political fallout.

In America's Nineteenth Century Civil War, rebel states declared their sovereignty and independence from the United States, and the President defended the Union and the Constitutional order.

Today it is President Trump who attacks the Constitution and the rule of law, declaring his personal sovereignty and claiming immunity from any and all restrictions to his personal power.

Looking beyond partisan politics, the transition from post-truth Neptune-Jupiter political jousting to Saturn-Pluto's rigid political divisions and escalating legalistic warfare has brought us face to face with the unpleasant reality that America is entering the biggest Constitutional crisis it has experienced since the Civil War.

This is an intractable problem with grave consequences for the United States and for the current global world order. There are no easy answers. There will be a struggle, and the extent, duration and intensity of that struggle remain to be seen. That is Saturn-Pluto in Capricorn at work. The only certainty is that there will be an end to the current political system, and an entirely new one will be born in the years to come.

On the environmental front, California is experiencing a regression to Third World conditions of intermittent and persistent power shortages that appear to be intractable and could become the new normal, in which Silicon Valley tech Titans must use home generators for their electrical needs, while schools, universities, and hospitals go for days without power.

Vital infrastructure constituting California's power grid is now approaching Third World conditions. Pacific Gas and Electric, the bankrupt company responsible for the tragedy in Paradise, California, and for numerous huge wildfires sparked by aging, faulty equipment over the last few years, has decided to minimize its legal liabilities by simply cutting off electricity to vast swathes of California's fire prone regions during wildfire season.
Courtesy Wolf Richter, of WolfStreet.com, here's an example of PG&E infrastructure in San Francisco.
Californians from the governor on down slammed the state's largest utility on Wednesday for rolling blackouts that could plunge up to 2 million people into darkness as it scrambles to keep its power lines from sparking new wildfires.
"Pacific Gas & Electric Corp., or PG&E, began shutting off power in phases early Wednesday to about 500,000 customers in northern and central parts of the state, including sections of the San Francisco Bay Area. A second wave, affecting about 250,000 customers, began in the afternoon," according to an October 10 story by NBC entitled PG&E slammed for cutting power to millions of Californians.
"Because customers include businesses in addition to individual homes, PG&E said the shutdown could affect as many as 2 million Californians. And it said customers wouldn't be reimbursed for lost business, housing alternatives or spoiled food and medicines," NBC reports.

The blackouts could last for ten days or more, and PG&E expects to implement further multi-day blackouts as many as a dozen times or more during the current wildfire season.

"Today, Southern California Edison said that, given the strong Santa Ana winds forecast for the area, power could be cut off to more than 173,000 customers in parts of eight Southland counties," according to the Los Angeles Times.

How could this happen?

Overbuilding in fire prone areas of California in response to a state wide housing crisis caused by a spiraling population and a housing affordability crisis triggered by a years long speculative bubble in Silicon Valley IPOs and tech companies play some role in the current debacle.

Failures of state regulatory agencies to hold PG&E accountable are certainly part of the problem.

California's decision to no longer implement old-fashioned fire prevention techniques like large scale fire breaks that take up much valuable real estate have some role in this situation, too.

And above all, PG&E's ongoing crapification of the California power grid over many years is the proximate cause of the disaster. PG&E preferred to defer maintenance and necessary upgrades, ignore problems, prioritize low-cost power distribution over safety and performance, and maximize shareholder value by refusing to spend necessary billions of dollars to replace totally obsolete equipment throughout their system.

The catastrophic 2018 Camp wildfire, the most destructive wildfire in California history, killed 85 civilians, and covered over 240 square miles, PG&E has agreed to pay an $11 billion settlement for its negligence and culpability, resulting from the role of faulty equipment in triggering the blaze.

Yesterday the Wall Street Journal published an investigative report detailing PG&E's systemic, willful neglect of basic maintenance procedures and consistent failure to inspect transmission lines, despite management's knowledge that the decayed state of their entire power grid system posed significant fire risks that had already triggered multiple catastrophic fires.

"PG&E Corp. knew for years that hundreds of miles of high-voltage power lines could fail and spark fires, yet it repeatedly failed to perform the necessary upgrades," The Wall Street Journal reported.
True color corrected reflectance image of California on November 8, 2018, showing the smoke from the California Camp fire near Paradise, California. On the same day the smoke spread southwestward to the Bay Area. NASA [Public domain]
Even before last year's tragic Camp wildfire that razed Paradise, California, company executives knew that 49 of the steel towers carrying electrical lines that failed needed to be completely replaced. In 2017 PG&E managers estimated that the average age of all their transmission towers was 68 years, and that those towers had an average life span of 65 years. Some were over 100 years old.
"Documents show that PG&E is unaware of the exact age of many of its transmission towers and wires," according to the Wall Street Journal. "In 2010, PG&E commissioned consulting firm Quanta Technology, a subsidiary of Quanta Services Inc., to assess the age and condition of transmission structures throughout its 70,000-square-mile service area."
"The firm was unable to determine the age of about 6,900 towers in the 115-kilovolt system. It found that nearly 30% of the remaining towers in that system, more than 3,500, were installed in the 1900s and 1910s. About 60% of the structures in the 230-kilovolt system were built between 1920 and 1950."

In the latest financial news, you'll find ongoing coverage of the global economic slowdown outside the United States, the onset of what appears to be a recession in Germany, negative interest rates signaling deflation throughout Europe, a slowdown in the Chinese economy, disruptions of global supply chains as a result of the US-China tariff war, the inversion of the yield curve in the United States, a slowdown in capital investment and corporate earnings in America, and, perhaps most unsettling the implosion of the Silicon Valley IPO machine, which could signal the top of this bull market and potentially a transition to a reprise of the infamous
2001 Dot.com bubble collapse.


"Welcome to the 2019 class of hyped-up IPOs," reports The Washington Post. It's been a big year for public offerings. Companies entering the stock market so far have raised nearly $50 billion, about equal to all of 2018 and easily eclipsing the $35 billion raised in 2017, according to data provided by Renaissance Capital. This year's class is on track to have the lowest first-year profits since the peak of the tech bubble, according to Goldman Sachs."
* Smile Direct: down 41.8%
* Lyft: down 40.8%
* Uber: down 29.5%
* Peloton: down 16.5%
* Slack: down 14.1%

Then of course there's the infamous WeWork debacle.
"WeWork was just late to the defenestration party," argues Wolf Richter, who runs the well-regarded WolfStreet.com financial blog in an October 8 article entitled When Was Peak-Insanity of the Unicorn-Startup Bubble That's Now Imploding?
"Everyone – including infamously me – has been trying to pinpoint the exact moment when the magnificent startup-unicorn-bubble broke, and I mean not just broke but imploded spectacularly," Richter reports. "All of the biggest upcoming IPOs were cancelled. All the biggest ones that got out the IPO window this year crashed and burned. And the $47-billion WeWork unicorn is now awaiting dismemberment or a bailout from Softbank after its IPO hopes were annihilated by a catastrophic event, called 'market conditions,' when some sort of rationality starts to reinsert itself in tiny baby steps into the market."
"WeWork is the current favorite for pinpointing when, who, and what blew up the IPO market that is so crucial for the startup-unicorn scheme to function and to come to its completion. Former Nasdaq CEO Robert Greifeld explained in an article published on CNBC this morning:
"WeWork's aborted IPO may come to mark the end of the current 'unicorn' bubble the way the scuttled merger between Yahoo and eBay signaled the start of the dotcom crash in 2000."
The onset of global financial fragility may also be discerned by close attention to the movements of the stars.

Financial astrologer Robert Merriman reports that "Once again, the study of Financial Astrology suggests you cannot believe what you read, hear, or see. It is fine to have a positive attitude, but it may become a serious problem when the message of optimism is actually more manipulative (to drive the markets up, perhaps) than real or accurate. Jupiter square Neptune can be that kind of message, and it is why we referred to 2019 as The Year of the Setup in our Forecast 2019 Book."

"After December 2, 2019, Jupiter will join Saturn and Pluto in Capricorn, creating what is known as the Capricorn Stellium. History shows a correlation with markets rising to a long-term cycle crest when Jupiter is in Sagittarius (November 2018-December 2019), and then falling to a long term cycle low when it transits Capricorn through Pisces (2020-2022). The correlation is not 100%, but the frequency of this occurring is well above the norm, and we pay attention to probabilities like this."
Warren Buffett, USA International Trade Administration [Public domain]

Maybe legendary investment guru Warren Buffett has a good astrologer. His Berkshire Hathaway investment company is now holding more than $122 billion in cash.

These are but early examples of what we can expect from the onset of the Capricorn Stellium, as we open our eyes after a prolonged drink from the intoxicating Jupiter-Neptune punchbowl, which misled us to believe we could manufacture our own truths without consequence and that endless growth is possible in a finite world.

We can expect more such sobering wake-up calls from the Universe in the months to come, relating to political, economic and social systems and environmental challenges that are disrupting our civilization on every level of our existence.

What to do?

Individuals will want to connect with inner spiritual guidance to navigate these troubled waters safely. Under this stellar influence, increasing our spiritual practices is no longer optional, but a necessary condition for survival.

As these two planetary heavyweights form a T-square with Sun in Libra and Moon in Aries this Full Moon weekend, it might be wise to take a break from our busy lives, and focus our attention within.

Saturn, ruler of limits and boundaries, and Pluto, ruler of the unconscious and the underworld, both in Capricorn, want us to pay attention to what has been hidden in darkness and to explore the places where boundaries and limits are important in our lives. This planetary pair challenges us to accept the impulse these planets convey to us to utilize the limits we encounter in life to create optimal conditions for our spiritual development and our material well-being.

Saturnine limits, restrictions and boundaries have acquired a bad name in our me-first, endless growth, unlimited consumption fossil fuel society. But limits are essential to life, at every level of being.

Creation began with the imposition of limits on the limitless chaos of the Void. Mystery school traditions tell us that the Divine Father-Mother Source imposed limitations on its own infinity to initiate the manifestation of this Universe. This process is profoundly Saturnine in nature.
God the Geometer, Austrian National Library [Public domain], circa 1220

Science, and particularly geometry and astronomy/astrology, was linked directly to the divine for most medieval scholars. The compass in this 13th century manuscript is a symbol of God's act of Creation. God has created the universe after geometric and harmonic principles, to seek these principles was therefore to seek and worship God.

"When God drew a circle on the face of the deep, I was there," says Wisdom, in the Book of Proverbs (8:27). Structure, form, shape, cohesion and the very laws of physics that enable this Universe to evolve as an environment that supports consciousness and life, all flow from the initial imposition of limits upon the infinite.

"God drew a circle in order to restrain his own substance," explains the Bulgarian spiritual Master Omraam Mikhaël AÏvanhov, in his book Angels and Other Mysteries of the Tree of Life. "The circle is a magical outline. In the center of this circle, God placed the seed of creation, and his work began. Everything in nature reveals the way God created the world. A single cell with its surrounding membrane tells us the whole story. If our skull did not exist, where would our brain be? And the skin too, serves as a limit; this is its function."

When a magician performs a ritual to raise power, to cleanse and purify, or to manifest a desired outcome, it is first always necessary to circumscribe sacred space, for protection and in order to concentrate, conserve and amplify the energies being generated.

When an artist creates a beautiful painting, or a director storyboards an epic film or TV show, the framing of the scene is the most essential creative act. The framing device allows the creative artist to draw our attention to important elements and to highlight connections between them that would be totally lost without the precise frame that has been created.

At this pivotal moment in world history, humanity is challenged to recognize, accept and work creatively with the limits to the growth of human civilization imposed by the Earth's ecosystem. It is our failure to accept these limits to economic and population growth that have led to the present environmental crisis. We must all begin to do the difficult Saturn work that is required if we are to maintain a livable environment on planet Earth.

Pluto in Capricorn confronts us all with the repressed contents of our collective unconscious. We are beginning to see how we have unwittingly engaged in a Faustian bargain with the demonic forces of Mammon, which have led us to believe in the illusion of limitless economic growth and unlimited human mastery of nature.

Saturn and Pluto conjunct in Capricorn challenge us to accept our limitations and to completely transform our priorities and lifestyles so that our outer world activities will harmonize with our spiritual path and our ethical principles. Nothing less is required for our civilization's survival and for the well-being of future generations.
This Full Moon weekend, we offer you a chance to join us in a group meditation designed to support humanity and the Earth's ecosystem as we navigate these times of frightening global transformation. Together we can joyfully do the hard Saturn work and we can initiate the Plutonic transformations that will enable our civilization to survive and thrive in the generations to come.

Together we will weave a Net of Light.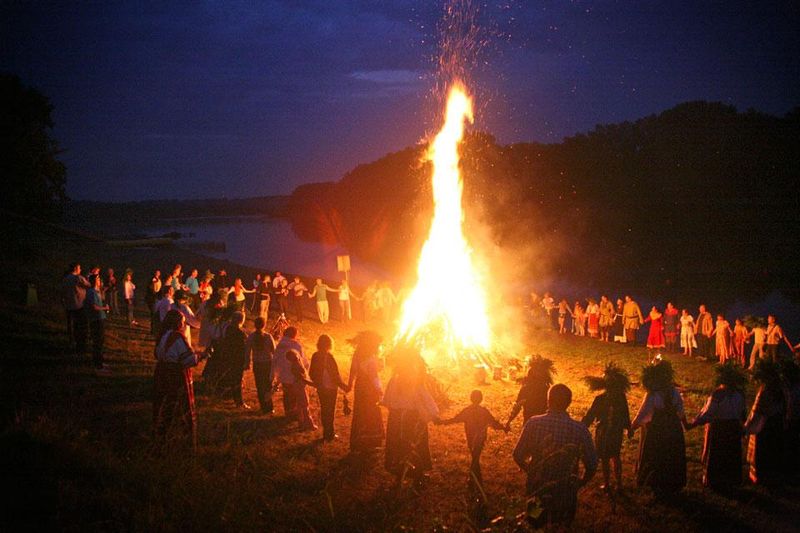 Image from Now is the Darkest Hour, September 7, 2019 BlogPost from the Net of Light website.

Who are the weavers of the Net of Light?

"We are women and men, ages 18 to 95, looking for a personal connection with the Divine—one free from rules and formal religion. We want a sense of community, more joy in our lives, and wish to be of service during this time of radical change on our planet. The Great Council of the Grandmothers first appeared in 1996 as Sharon McErlane walked her dog."

"The world is in grave danger," they said, "and we will not allow its destruction. For too long Yang or masculine energy, has dominated life on earth, causing feminine energy to become deficient and weak. We have come to restore Yin to full beauty/power and return the world to balance. We are calling you to this work."

Hopi prophecy states, "When the wisdom of the Grandmothers is heard, the world will heal," and at last the Grandmothers have come. Today over 200 groups meet around the world to spread their message and teach people how to work with the Net of Light. "The Net of Light," the Grandmothers say, "supports everything in the Universe and will hold the earth steady during the times of change that are upon you now. Work with the radiant Net," they urge, "to support life."

Here is a video entitled "What is the Net of Light" that will provide more explanation.

And here is The Net of Light Guided Meditation a short guided meditation in the form of a video that we can all share this Full Moon weekend. This is an ideal visualization for projecting healing Reiki energy worldwide! If you have a favorite Vogel wand, crystal or gemstone you use to project love and light for healing, feel free to use this during the meditation.

And here is a portion of the latest message from the Great Council of the Grandmothers, September 7, 2019.

"This is the darkest hour," the Grandmothers said. . . "Yes!" they nodded, "all over the world grasping men are taking over control. Look at what is happening!" they cried. "Forests and jungles are burning, the polar ice is melting, animals are dying, while storms, fires and floods are raging everywhere. And all of this and more is taking place every day! This nightmare is no one's imagination!"

"This darkness on Earth may last for a while," they said, "so gather your lights together, no matter how small or flickering they may seem, and share light with one another. You have a job to do.". . . "Many people have no light at all, so if they can see yours, it will cheer them.

"This 'night passage' the Earth is going through will finally come to an end but the end is not here yet," the Grandmothers said. "So, at this time, come together in both large and small groups — sing together, pray together, tell stories of better times, and most of all, share loving communion with one another. Each time you meet, we, the Great Council of the Grandmothers, will be there. We will never desert you, no matter how black the hour. You can count on us," they said, their heads nodding firmly. "Call on us and we will come. Instantly."

Jane and I would like to thank Arleen W, a longtime spiritual activist, Lightworker and Cosmic Weather Forecast subscriber, for introducing us to the Net of Light! If you feel an affinity for this work, please share this newsletter widely!
Jane and I send each and every one of you Love and Light and Reiki Blessings from our suburban sanctuary in Boca Raton, and we ask that you receive the grace and guidance you require to attain your spiritual and material goals. We ask that at this auspicious time of year Mother Laxmi will bless you with abundance, joy, health, wealth and strong will forces to see you through these tumultuous times on planet Earth!


Meditation Moment: Circle of Light
"Certain thinkers have tried to define God by describing him as a circle
whose centre is everywhere and whose circumference is nowhere. Since this
centre is everywhere, it is important to understand first and foremost that
it is within you, and that it is always possible for you to encounter God,
to talk to him and listen to him. Because it was his desire to infuse
himself in his creatures, he is part of you and you cannot lose him. If you
lose him, it is because you have not yet become sufficiently conscious that
you possess him."

--Omraam Mikhaël Aïvanhov